Aquagold's fine touch micro-channeling makes thin "micro-channels" that reach the skin's epidermis. Bypassing the skin's natural protective barrier, this enables the absorption of customized chemicals to be absorbed straight into the skin. The skin is nourished, fed, healed, and rejuvenated from the inside out with Aquagold fine touch.
Patented fine, spiral thread needles made of 24 ct gold hair form these microchannels. These tiny needles are so soft that your doctor can treat you up to your lash line and over your lips. Depending on your skin issues and the concoction of chemicals your doctor has created: Aquagold fine touch micro-channeling treats dryness, lessens the appearance of wrinkles, fine lines, and acne scars, as well as pigmentation, pore size, and redness. It also improves the tone and texture of the skin.
For more information visit https://aquagoldfinetouch.com/pages/aquagold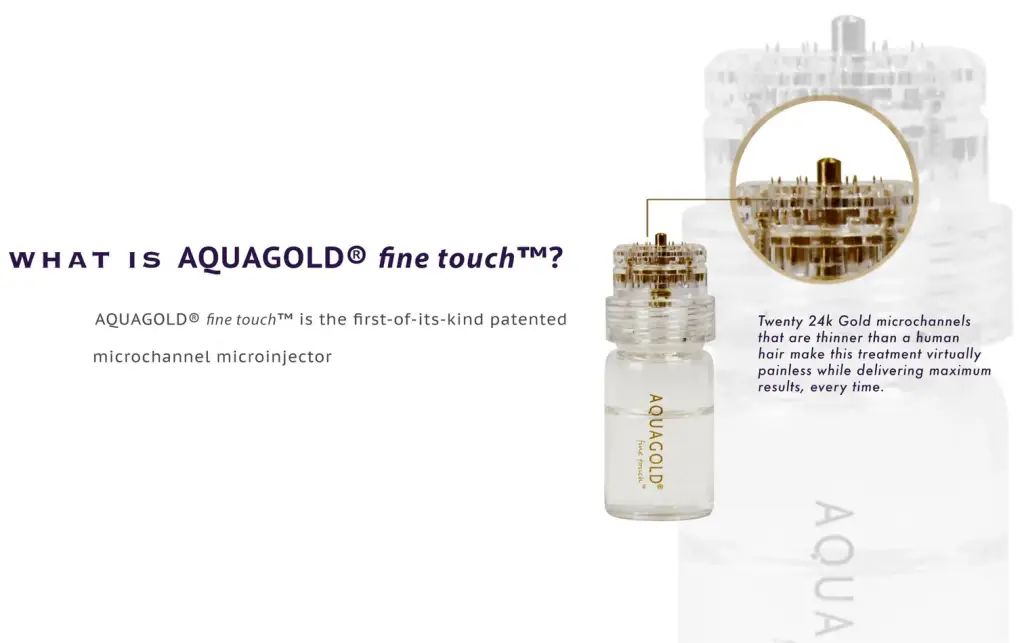 Tracee is amazing! I originally started seeing her for B12 injections which evolved to LIPO/B12 injections. I recently attended her open house at her new location. It is gorgeous and set up perfectly for the other services she now offers. I would trust her for any of them! If I could give her 10 stars, I would!
Congratulations on the Grand Opening yesterday. I've been going to Lisa with Suburban Brow for years, she does an amazing job. I booked a Hydra facial appointment with Purebeauty_by Michelle, I'm so excited! I'm sure Hydra facials will be part of my routine.
I recently went in for a B12 shot on a recommendation from a friend. WOW! The boost in energy, weight loss, and improved sleep cycle has changed my life. With a busy workload and family duties, I don't have the time to hit the gym like I used to. This B12 shot gave me the endorphins I used to get from working out. I'll be going back for routine visits with Tracee for sure. She's the best.
I've been going to Lisa for all my brow & lash needs for years. She has the best attention to detail and keeps my brows perfect! So excited to try more services; hydrafacial and Botox booked!
I had a wonderful experience and am very happy with results of my Botox injections. Tracee is the best!
Precision Medical Aesthetics is where its at! Come visit Tracee and the gang for all your beauty needs. They will take THE BEST care of you!
Tracee is the absolute best! Botox and fillers can be scary, especially for a first-timer but have no fear. Tracee gave me Dysport in my forehead and filler in my lips and my results were amazing! She's super knowledgeable and will walk you through the whole procedure. Book your appointment now!
Would recommend Tracee for all of your injector treatments. Tracee has amazing communication, she is professional and a great injector. She really takes the time to talk about your concerns. 5 stars all the way!
Your Botox & Filler Specialist